What is Yearling Buck Protection (YBP)?
Yearling buck protection is straight forward. It is setting harvest standards that protect the majority of yearling bucks, 1.5 year old bucks with there first set of antlers from harvest. This allows them to get older which means hunters see more bucks and harvest larger bucks.
How to Protect Yearling Bucks in New York
Currently in NY most male deer are killed as Yearlings (1.5 years old) when they have their first set of antlers and are only a fraction of their adult weight. They even still have their milk teeth.
Percentage of Yearling Buck Harvest
The map below illustrates that in most areas of New York 60 to 70% of the harvest is yearling bucks and in many areas the harvest is made up of 70 to 85% yearling bucks.
This leaves very few bucks to reach maturity and results in 75% of all NY hunters feeling there are too few older bucks. Do you think there are enough maturity bucks?
The plan is simple let those deer live an extra year or two so that they have a chance to reach full body size. This will result in the harvest being comprised of approximately fifty percent of 2.5 year old bucks with a good portion, approximately twenty five percent reaching 3.5 year years old. We expect to see some 4.5+ bucks as well.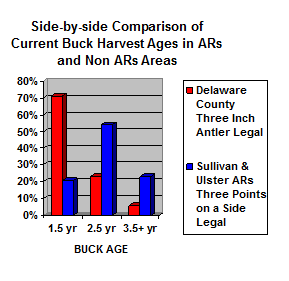 THIS GRAPH SHOWS HOW THE 2.5 YEAR OLD AND 3.5 YEAR OLD HARVEST INCREASES DRAMATICALLY AND THE YEARLING BUCK HARVEST IS REDUCED DRAMATICALLY WHEN YEARLING BUCK PROTECTION IS IMPLEMENTED.
The easiest way to achieve this is to implement a harvest rule that protects most yearling bucks. In New York a 3 or 4 point on one side rule will protect the majority of yearling bucks. The number of points is determined based on age, soil types and habitats. As the below DEC map shows.
THIS MAP SHOWS THAT BY IMPLEMENTING A 3 POINT ON ONE SIDE RULE IN EASTER NEW YORK AND A 4 POINT ON ONE SIDE RULE IN WESTERN NEW YORK A SUPER MAJORITY, 67%, OF YEARLING BUCKS WOULD BE PROTECTED FROM HARVEST.
History of Yearling Buck Protection in New York