Working to improve deer management and buck hunting in NY
PRESS RELEASE
FOR IMMEDIATE RELEASE
June 23 2011
Sportsmen announced today that they strongly support the NYSDEC Deer Management Plan's continuation in existing areas and expansion of yearling buck protection for the 2012 season.  The proposed hunting changes will expand the existing yearling buck protection with antler restrictions to include seven additional Wildlife Management Units (WMUs).
How Yearling Buck Protection with Antler Restrictions is addressed in the Draft Deer Management Plan:
David Hartman, President of New York State Whitetail Management Coalition (NYSWMC), stated, "We are pleased that the Department recognizes that the plan can offer multiple models for Yearling Buck management. Hunters' attitudes can vary widely from one end of the state to the other.  The Department seems to understand that there has to be some latitude when dealing with regional and local issues."
Hartman added, "We commend Commissioner Martens and the DEC staff for incorporating the retention and expansion of Yearling Buck Protection with Antler Restrictions beginning with the 2012 season in the Draft Deer Management Plan.  We look forward to working with the Department as they adopt and implement this program."
Bill Willis spokesman for the Five County Coalition of Sportsmen and member of the Delaware County Department of Economic Development stated "Five counties in South Eastern NY, Sullivan, Ulster, Delaware, Greene and Schoharie have proposed yearling buck protection with antler restrictions for the last three years.  We are glad to see that the DEC has incorporated this request in the Deer Management Plan.  He added based on DEC's survey of hunters who went afield in the proposed units, 67% of the hunters in the affected area supported antler restrictions.  "Antler Restrictions have overwhelming support from the communities and are a local home rule issue."
How Yearling Buck Protection with Antler Restrictions is working in New York:
"The current Antler Restriction Program is fully achieving the sportsmen's goal of protecting yearling bucks. Yearling Bucks comprise only 15% of the total harvest and the balance 85%, is adults 2.5 years and older. The harvest of 3.5 year old bucks is up to 36% of the total harvest, a 258% increase. Sullivan and Ulster Federations in the area support continuing and expanding the Antler Restriction Program and DEC surveys found that a majority of sportsmen want to continue the AR program" said David Hartman, President of NYSWMC. (See our report Yearling Buck Conservation with Antler Restrictions)
Jay Martin, Big Game Chairman for Ulster County Federation, pointed out, "According to DEC data, deer numbers were at very low levels when the pilot AR programs were first implemented. We have experienced a resurgence of both deer numbers and as the harvest data clearly shows, we now have a much better balanced age structure in our buck population."
Tom Yager of the Sullivan County Federation explained that "Sullivan County has shown the best results with the antler restriction program. The best results have been observed in WMU 3H, where buck harvest numbers are back to pre AR levels and hunters are harvesting significantly more mature bucks.  This is a direct result of the regulation to protect yearling bucks and very low doe tags issued at the start of the program."
Forest Darder of the Sullivan County Federation stated, "Most importantly buck hunter satisfaction has increased for 56% of the hunters in Sullivan County as a result of the Antler Restrictions according to Cornell 2011 Survey."  He added that "the survey found that 70.5% of Sullivan County Hunters wish to continue the Antler Restriction program as is."
"I have never seen a single white-tailed deer management program that has invigorated and excited hunters more. Hunters in the current AR areas are hunting a deer herd that many generations of NY hunters have never experienced" stated Dick Henry a recently retired New York DEC biologist.
David Hartman, President of New York State Whitetail Management Coalition added "Both Ulster and Sullivan Counties have harvested the biggest bucks since the late 1920's in the Antler Restrictions areas."
David Hartman added "Positive comments are needed on antler restrictions in the Deer Plan to assure this hunting improvement is adopted.  Public comment is open thought July 28th and may be sent to":
DEC Deer Management Plan
NYSDEC, Bureau of Wildlife
625 Broadway, Albany, NY 12233-4754
or e-mail comments to deerplan@gw.dec.state.ny.us
Those interested in additional information can visit our website and join or send email to info@nyswmc.com.
The DEC Deer Management Plan calls for the inclusion in the yearling buck protection program of  WMUs, 3A, 4S, 4G, 4R, 40, 4P, and 4W, located in Sullivan, Ulster, Delaware, Greene and Schoharie Counties requested by sportsmen in 2009, 2010 and 2011.  The plan also calls for the continuation of the program in WMUs 3H, 3K, 3C and 3J in Sullivan and Ulster Counties.  This program will require deer hunters in those areas to take bucks that have three or more antler points on one side, instead of the antiquated three inch spike antler law which has been in existence since 1911. Similar changes have been successfully enacted in 21 other states and are intended to provide a better balance to the buck age structure of deer populations by protecting yearling buck from harvest. The over harvest of immature bucks is deemed to be biologically inappropriate by many wildlife biologists across the nation.
See our report Yearling Buck Conservation with Antler Restrictions: Is it working in New York? An Assessment and Evaluation of Yearling Buck Protection with Antler Restrictions in New York. The report can be found and cited at: http://www.nyswmc.com/wp-content/uploads/2011/06/YBP-AR-Evaluation-in-NY-June-2011.pdf.
For additional comments or information please call 646-216-9312
For further information see www.nyswmc.com
NYSWMC has distributed an informational booklet, Antler Restrictions- what's the point July 2011 across the state that should help hunters in every region understand why Yearly Buck Protection is developing a following. The mailing went to 1600 members of the sporting community and has been well-received. The information it contains should help hunters understand the advantages of such programs.  It also provides information on what has been achieved in the few years since the program was adopted.
Click here to read:   ARBooklet-Antler Restrictions-what's the point 
Here is a link to the document. Please feel free to distribute it.
http://www.nyswmc.com/wp-content/uploads/2011/07/ARBooklet.pdf
"Once and for all, get yearling buck protection done.  NY has enormous potential given its diversity of habitat and quality of terrain.  All we need is discipline and commitment." William L. Fayetteville
"Would love to see an antler restriction in Unit 3G Dutchess County" Paul H. Verbank
"I am behind this 100%" Adam S. Yonkers
"I've been hunting the far northeast corner of Pennsylvania where the 3 point rule has been in effect for 8 to 10 years and the number of 10 and 12 pointers is amazing. They implemented this rule in NY WMU 3H a few years ago and I can already see the results. It would be great to have this implemented state wide."  Gregory T. New York
"Hope this happens" Jesse P. Syracuse
"We feel antler restrictions have definitely made a difference in WMU 3H and 3K in the past 2 years."  Joe R. East Moriches
"Should have done this years ago we need it in all of New York state."  Terence M. North Babylon
"Hope we can finally get this done!"  Timothy K.  Shady
"LONG OVERDUE IN DELAWARE COUNTY" Michael D. LONG EDDY
"As a landowner and sportsman, I strongly support the antler restriction" Richard W. Walton
"This is a great idea and all of NY needs to go to this.  It is a great management program." Jason B. Salem
"There are many of my fellow hunters that would love to see an antler restriction, so that in the future year we may have the chance of harvesting a mature higher scoring buck.  More money could be available to DEC of NY if the bucks were more like the deer in Penn. and Ohio. Only this change to antler restriction can make it happen."  Gary N. Schenectady
"Here in NY we deserve adult bucks, why should all the other states be known for large bucks and big antlers? We can have it here too if we can have some patience and let the young bucks walk for awhile."  Theresa K. Greene
"It is frustrating to travel around the country to hunt quality whitetail when the local area is capable of producing mature quality deer." Peter K. Leeds
"Looking forward to the day when biology not politics will determine hunting regulations."  William B.  Cambridge
"I have been advocating antler restrictions for several years now. The hunting is so bad on my place in Deposit that I refuse to waste my time – I haven't hunted it in 4 years. I spend all of my time hunting Westchester Co. and Greenwich CT. where I have a realistic chance of harvesting a mature buck. I also have to spend money every year hunting Ohio for the same reason." Carmine D. New Rochelle
"I am so glad to see an organization like this try to help our deer herd here in NY. This is long overdue as year after year we are seeing a genetically inferior deer herd because of the lack of proper deer management. Thank you and good luck." Thomas J.  Staten Island
"I was thrilled to learn about NYSWMC in Dave Henderson's article in the Press & Sun Bulletin. Thank-You!!!! Finally someone finally gets it, let the buck grow up and we can all enjoy better herds. Thanks for a wonderful job, and I am already referring friends to your website. Kudos!!!!"  Theresa & Arnold K.  Greene
"Thank you for starting this!  We have a club in Delaware County and we totally agree with everything you speak about.  Antler restrictions are needed." Joel D. 
"Bring on antler restrictions!!  I wish I found this web site sooner…  avid antler restriction supporter" Brian H.  Mechanicville
"I strongly support your goals.  Good luck!"  John H.  Middlesex
"I am fully on board with NYSWMC mission and am willing and able to participate and help any way possible."  Brent G. Clifton Springs
"This organization is a great idea and I will be endorsing it in my column next week.  This is the kind of action that gets things done!  My hat is off to you and keep me posted on how I can help." Dave D. Westtown
"Love the idea; keep in touch" Garrett S.  Darien Center
"Would like to see the deer hunters take back control of deer hunting in NY."  Richard S. Rose
"Great website" Ryan L. Salem
"So many times we let smaller bucks go just to find out the next hunter took it." Gary N, Schenectady 
 "I was told by NYSDEC that voluntary AR would work just as well.  I sat in my tree stand on the opening day of Southern Zone big game in 2009, passed up a yearling buck (spike), watched it walk 200 yards to my neighbor, who killed it immediately.  This is and will be the scenario played out over and over with "voluntary antler restrictions".    Thanks for your efforts." Larry U Walton  
 "Every year I witness small bucks being taken and I ask hunters why they didn't let it go, and I get the same answer from them. If I passed on it someone else would have shot it later on. But if we had antler restrictions this would never happen again" George V, Whitestone
"I have 2000 acres that I am caretaker and we kill nothing under 8 points. The problem is the neighbors kill everything with horns (3 inch). I have tried to get them to stop but no luck. Have always been 100 percent in favor of antler restrictions."  George H, Downsville
"We may pass on a small buck but many times he is shot by the hunter on land next to your land. My land is next to a big farmers land and he has hunters and employees who hunt it during bow and regular season. It has hurt my hunting the past 3 years." Mike M, Vernon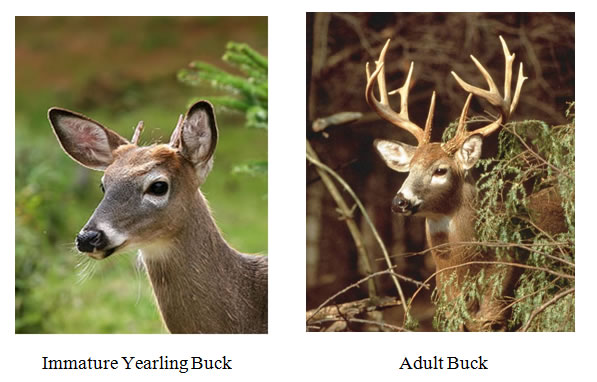 We all would choose to harvest the adult buck on the right but in New York that is nearly impossible because 7 out of 10 male deer are harvested at 1.5 years old or younger under DEC "management".  A very small percentage of bucks survive to reach older, mature age classes.
Join this group, follow this blog, take the recommended actions and together we the sportsmen of New York will revolutionize deer hunting.
We want to hear from our members send or email comments, pictures, newspaper or magazines articles and DEC documents to us Info@NYSWMC.com or Click Here for mailing address.  Our members are the eyes and ears of this organization.